Bridesmaids or witnesses play an essential role in any wedding ceremony. As well as supporting the bride on her big day, they also contribute to the whole aesthetic of the event.
Choosing bridesmaids' dresses can seem complex, as many factors need to be taken into account to find the perfect outfits. However, with careful planning and the following tips, you can choose dresses that will enhance your wedding party. Here are our tips:
Consider the theme and style of the wedding : The theme and style of the wedding are key elements to consider when choosing bridesmaid dresses. If your wedding has a relaxed outdoor feel, you can opt for flowing, lightweight dresses, such as chiffon or lace dresses. For a formal ceremony, long, elegant dresses in fabrics such as satin or taffeta are often preferable. Make sure that the dresses you choose complement the bride's style while creating a visual harmony with the decor and general atmosphere of the day.
Consider each bridesmaid's figure : It's important to choose dresses that enhance each bridesmaid's figure. Everyone has a different body shape, so it's essential to find dresses that flatter everyone. Take into account height, body shape and individual preferences when choosing dresses. For example, empire dresses are generally flattering for most body shapes as they emphasise the waist and elongate the silhouette. Trapeze dresses are well suited to women with an A shape, while fitted dresses are ideal for those with an hourglass figure. The aim is for every bridesmaid to feel comfortable and confident in her dress. To find out more about her body type, read our article on the subject.
Choose a colour that suits everyone : The colour of the dress is a crucial aspect to consider when choosing bridesmaid dresses. You need to choose a shade that flatters each bridesmaid's skin tone. Neutral tones and pastel colours are often versatile and flattering for different skin tones. Colours such as powder pink, sky blue or lavender can be good options. If you prefer bright or bold colours, remember to choose shades that work well with each other and with the overall colour palette of your wedding. You can also consider dresses in different colours, but with a consistent hue to create a unique and interesting visual effect.
Consider the budget : The budget is an important aspect to consider when choosing bridesmaid dresses. Talk to your bridesmaids about their budget and try to find a balance between quality dresses and affordability. If the budget is limited, you may want to consider options such as hiring dresses or buying ready-to-wear dresses rather than bespoke ones. Many brands also offer special collections for bridesmaids at affordable prices. By setting an overall budget, you can ensure that no one feels financially stressed.
Think coordination and coherence : Coordinating the bridesmaids' dresses with the bride's dress and the overall theme of the wedding will create a coherent and harmonious aesthetic. Consider details such as fabrics, patterns and embellishments to ensure visual consistency. You can choose dresses with details similar to the bride's dress, such as lace or pearls. It's also important to coordinate accessories, such as shoes, bouquets of flowers or jewellery, to complete the look.
Discover our collection of ceremonial items for special occasions.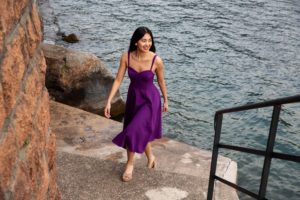 Choosing bridesmaid dresses requires planning and attention to detail. By taking into account the wedding theme and style, each bridesmaid's figure, colour, budget and overall coordination, you can find dresses that will make your bridesmaids shine while complementing the overall aesthetic of your wedding. Remember, the main objective is for your bridesmaids to feel comfortable, confident and beautiful on your big day.