A wedding in the Swiss Alps
Because we are committed to getting to know #lesfillesenlemoine better and because we crave for beautiful love stories, we wanted to share with you those of these women who trusted us for their marriage. Today, Nina tells us about her meeting with Oliver in Singapore and their wedding in the Swiss Alps.
A nice meeting in Singapore
We met in Singapore while we were both living and working there in 2016. I thought our first date was great but then on the way home it daunted over me and I realised that I probably spoke too much (I often do) and that it most likely overwhelmed him. Little did I know he loved that about me so I had nothing to worry about! We're very different – I'm loud, he's quiet – he's very mathematical, I'm more creative – but that's what makes our relationship interesting and all our principals and ideals are aligned so we both knew early on that it would work out!
A wedding proposal in Paris
After 2 years of dating in Singapore we moved to Paris, so we were still living in Paris at the time of the proposal. He asked me to marry him at home on a Thursday night one day after work. I knew it was coming at some point because we had been speaking about marriage for a long time and a few months earlier he had asked for my ring size haha. But I did not expect it at all at home, which was actually amazing! He custom designed the ring with a jeweler that I love, and it couldn't have been more perfect. We had a dinner reservation after that and went out to celebrate!
Disrupted preparations
We debated the location for a while, he is Danish and I am Swiss, and we were living in France so that was also an option. The venue and date was finalised in January 2020 for a wedding in the Swiss Alps in September 2020. Admittedly a bit naively, we didn't realise people booked their wedding venues more than a year in advance. Luckily, we found a place that was perfect for us and they rarely do weddings so we were able to privatise the venue for the whole weekend. As more than half our guests were coming from abroad it was important for us to be able to host them. Obviously in March, Covid hit but we thought "everything would be fine" by September. As things progressed we were nervous, but in July we decided that we would keep the wedding as long as restrictions would allow us to have an event, luckily in Switzerland the situation seemed to be doing fairly well. We had a few guests from overseas (mainly friends from Singapore) whom we knew would not be able to come but decided it could be the same situation next year so we shouldn't postpone. Also, about half our guests came from countries where PCR tests are free for anyone, even without symptoms, so we encouraged those who could get tested, to do so and reduce the risk for everyone. On the day, except for a few less guests and all the staff wearing masks, we were extremely lucky to have a wedding almost as we had imagined it pre-covid!
For the dress – luckily I had already gone to 3 places to try on dresses, of which Maison Lemoine was my favourite. I actually went to ML to try on a different dress that I had seen online, but after trying on a few it was the Noemie that was perfect for me! The material is amazing, super comfortable, and I loved that the open back was an original shape unlike the other dresses I tried.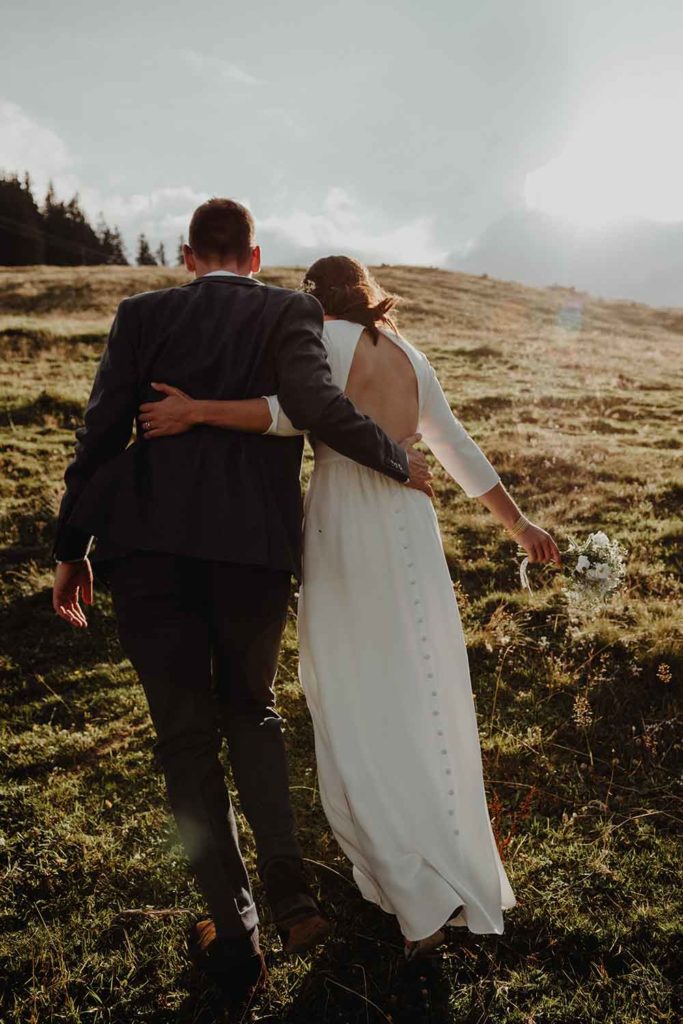 A wonderful wedding in the Swiss Alps
Naturally nervous – for both of us at first! But we were in such an elated mood the whole weekend, I kept thinking how lucky we are to be able to host a wedding mid-pandemic and with our family and friends coming from several countries I couldn't believe it actually worked out! Once the ceremony was over I was able to relax and I think the fact that we hosted an event during a pandemic and I was so happy that so many people could make it made me more relaxed than I would have been otherwise. My friends have told me I was "the most chilled bride ever". My favourite moment was during the ceremony when we did the ring exchange. We had some parts of the ceremony in English and some parts in French but we didn't "translate" sections because we didn't want all the bilingual people to listen to speeches twice.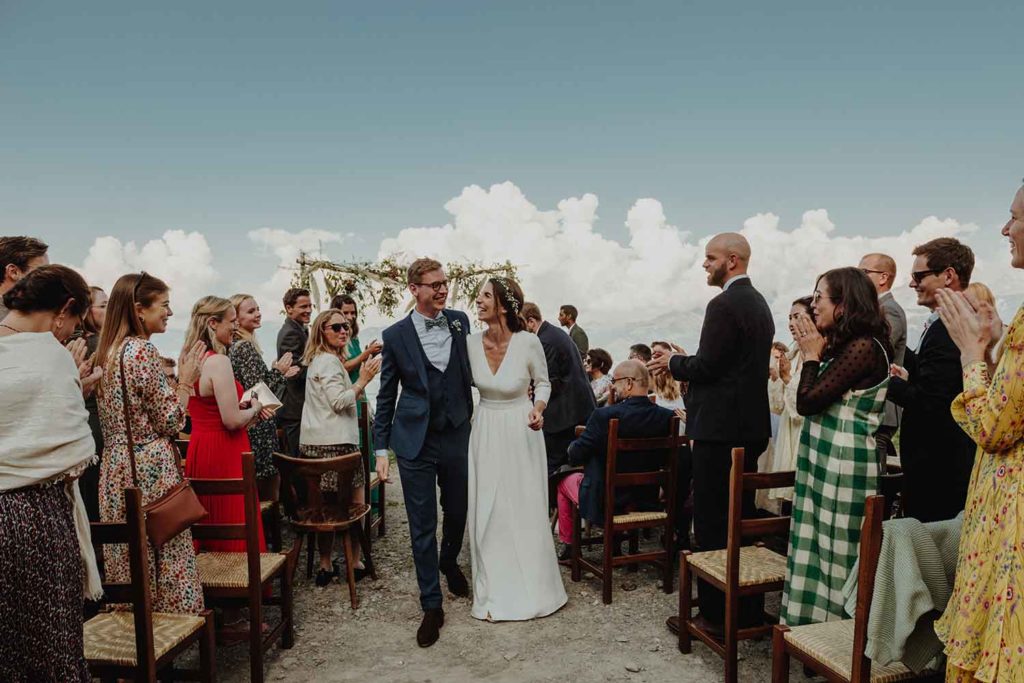 The ring exchange was in English but my grandma started heckling from the front row that it should be in French, obviously we hadn't practiced in French and both my husband and our friend who was the officiant speak broken French so we ended up with a hilarious mix of words and languages but everyone loved it (including grandma!).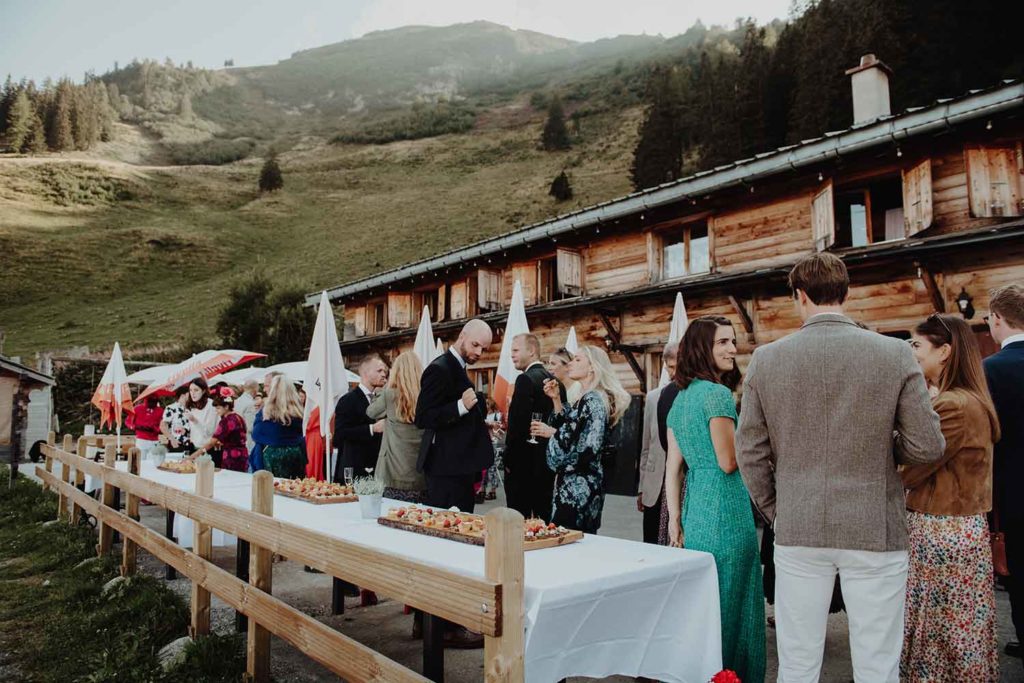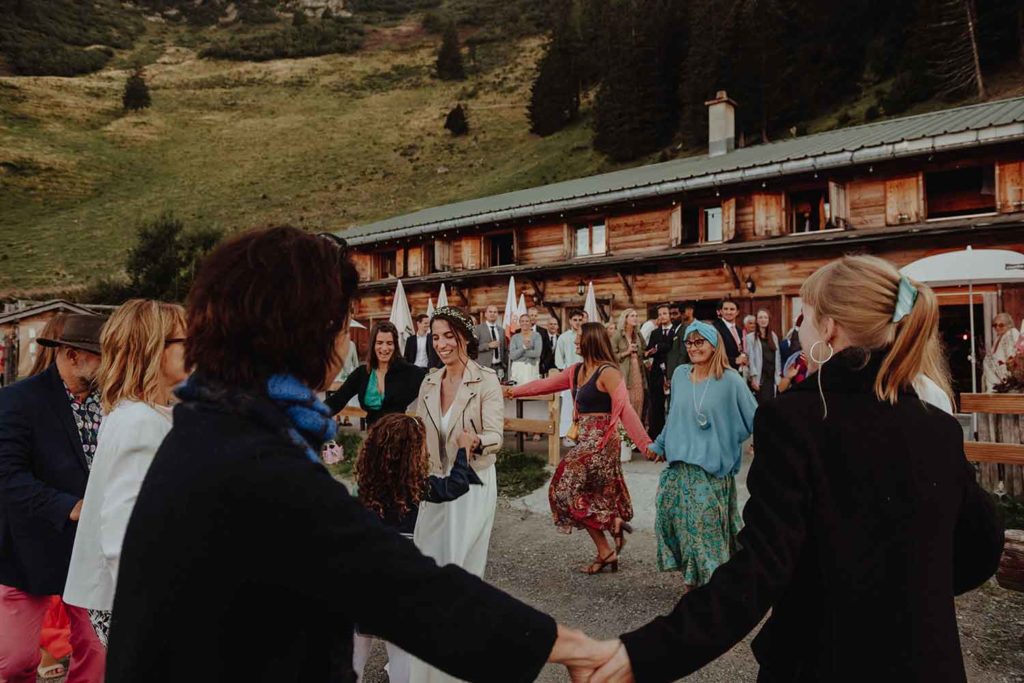 Nina's advice
– Make someone take videos of you while trying on dresses. My sister took movies of all the dresses and it was great to go home and see all of them, see how the material moves and with a movie you can really see all angles which you can't always get with the mirror.
– Everyone says this but it's true – try to relax and don't focus on details, no-one will notice what "should have been there" only you know that – so your guests will have a wonderful time anyway!
– Choose a photographer that you really like, these will end up being the memories that you keep the longest! We loved our photographer (Anne Montillet) and would highly recommend her to anyone!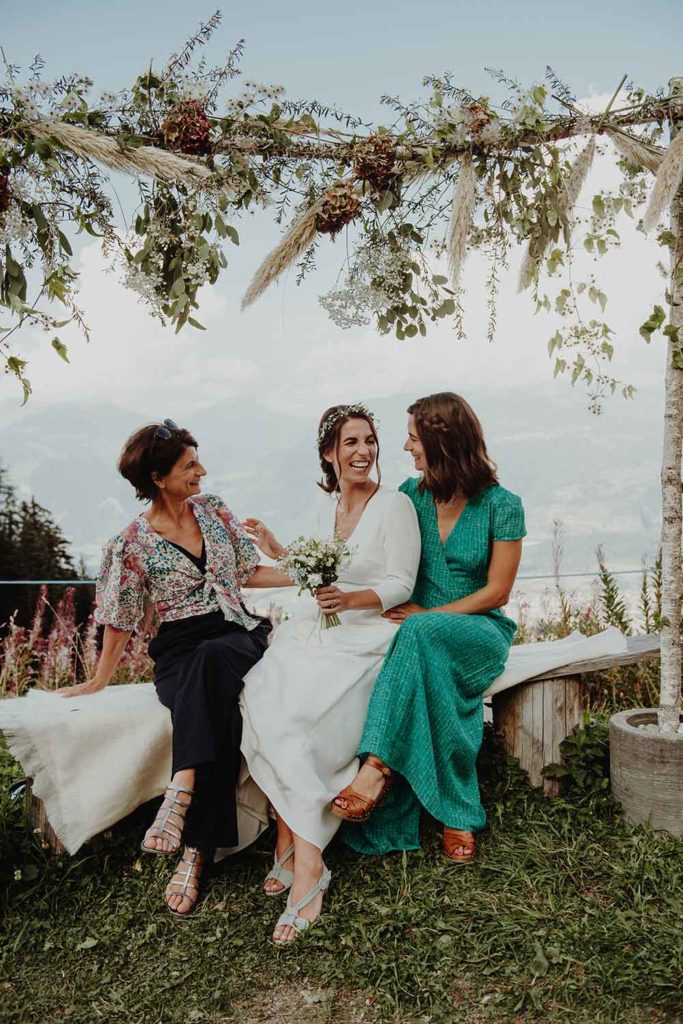 Thank you Nina for sharing your story and the beautiful memories captured by @annemontilletweddings !
See you soon for a new meeting and don't hesitate to tell us your story! We can't wait to get to know you 🙂