Mix and match #1
With two Pauline ensembles, you can wear 4 different outfits.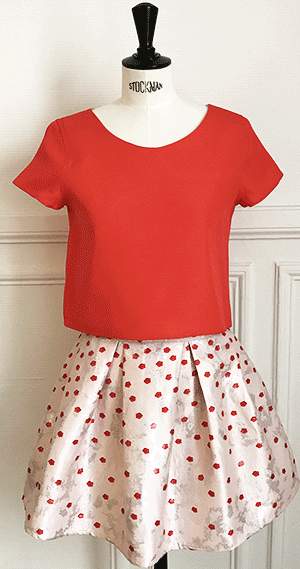 What to wear when invited to a wedding?
The sun is starting to shine and the wedding season is starting slowly ! As a guest, you must be wondering what to wear to not steal the spotlight from the bride… but still, by making a good impression. You need to find the perfect outfit to shine discreetly. These are a few rules that need to be respected :
1/ No white ! Only the lucky bride can wear it on the wedding day. Wear colors #1 !
2/ Black is more and more accepted, but is still not conventional for a wedding, and isn't really summery as well. So wear colors #2
3/ Try to avoid dresses that are too short, or too long, like Pippa Middleton's mermaid gown, that (almost) stole the show from her sister.
 Follow these rules, quite simple (on paper) and you will be the perfect guest !
Maison Lemoine's solution
If you still don't know how to dress, you can go and have a look on our website. It is our specialty at Maison Lemoine to dress the guests at weddings. To help you find the perfect outfit for all your weddings this summer, I have prepared for you a Mix&Match with our iconic Pauline ensembles. I will show you how to "re-use" your ensembles for a stunning effect and a controlled budget !
With two Pauline ensembles, you can wear 4 different outfits !
Finally, if you are a bridesmaid and want to be well matched with your friends without being too kitsch, you can put together these ensembles. You will create a real original girl squad with a strong visual unity !
Don't hesitate anymore ! Take an appointment with all your friends in our Parisian showroom by sending an email to contact@maison-lemoine.com  to come and try the Maison Lemoine outfits together. Or have a look at our website to discover more ideas from the community #lesfillesenlemoine !

Claire Lemoine